DREAMING WIDE AWAKE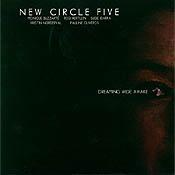 New Circle Five
Monique Buzzarté, trombone; Rosi Hertlein, violin/voice; Susie Ibarra, percussion; Kristin Norderval, voice; Pauline Oliveros., accordion. "Spanning three generations, New Circle Five is an acoustic improvising contemporary music ensemble. Diverse musical backgrounds result in unique twists as the five explore the one-time only sonic environment of collective creative improvisations. On this, their debut recording, New Circle Five perform their unique blend of collective creative improvisations from dreams of a non-violent world."
RETURN TO CATALOG
Subscribe to Deep Listening's E-newsletter!


Deep Listening Institute, Ltd.
77 Cornell St, Suite 303 Kingston, NY 12401
800.497.4072 toll-free 845.338.5986 fax


Deep Listening Institute Programs are made possible by the New York Statue Council on the Arts with the support of Governor Andrew Cuomo and the New York State Legislature.