Recording Field, H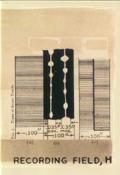 Interface
"Recording Field, H" features several firsts: the first recording bringing together Pauline Oliveros and interface; the first video documentation of interface and their unusual instruments; the first video documentation of the sonic character pieces Streams and Pikapika; the first duo connecting shakuhachi and the bowed-sensor-speaker-array; finally, the first DVD released by Deep Listening Publications.
The odd-numbered tracks are electronic improvisations, created spontaneously with custom-made instruments. The even-numbered tracks feature Tomie Hahn as two radically contrasting sonic characters; in "Streams" each gesture of the dreamlike apparition recalls bodies of water, technology, a flow of information, transmission, and liquid states; as Pikapika, Tomie embodies a spunky character influenced by anime, Japanese dance, and bunraku. In both pieces Tomie wears a sensing device developed by Curtis Bahn. This interface enables Tomie to negotiate full control of all aspects of the virtual soundscape structure with her movements.
Pauline Oliveros - accordion and Expanded Instrument System (EIS)
Curtis Bahn - sensor bass
Tomie Hahn - interactive dance system and shakuhachi
Dan Trueman - sensor violin and bowed sensor/speaker array
RETURN TO CATALOG
Subscribe to Deep Listening's E-newsletter!


Deep Listening Institute, Ltd.
77 Cornell St, Suite 303 Kingston, NY 12401
800.497.4072 toll-free 845.338.5986 fax


Deep Listening Institute Programs are made possible by the New York Statue Council on the Arts with the support of Governor Andrew Cuomo and the New York State Legislature.