Primordial Lift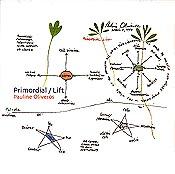 Pauline Oliveros
"Originally released on the Table of the Elements label and long out of print, this version of the recording contains an additional 30 minutes of material not included on the original release. Recorded live on March 20, 1998 at Hallwalls, Buffalo, NY. Primordial/Lift is based on information concerning the shift in the resonant frequency of the earth from 7.8hz to 13hz given in Awakening to the Zero Point by Gregg Braden, Radio Bookstore Press (1997). According to Braden, the resonant frequency of the earth was measured as 7.8hz in 1960 and by 1994 the measurement was at 8.6hz and it will rise to 13hz by 2010. At the same time the magnetic fields of the earth are diminishing in strength towards zero point. By the time that 13hz is established as the resonant frequency the magnetic fields will reverse their polarity - North will become South and vice versa. The acceleration from 7.8hz to 13hz of the earth's resonant frequency is represented in Primordial/Lift by a low frequency oscillator." Pauline Oliveros - accordian & electronics, voice; Andrew Deutsch - electronics & toy piano; Tony Conrad - electric violin & ring modulator; Anne Bourne - cello & voice; Alexandria Gelencser - electric cello; David Grubbs - harmonium; Scott Olson - low frequency oscillator.
RETURN TO CATALOG
Subscribe to Deep Listening's E-newsletter!


Deep Listening Institute, Ltd.
77 Cornell St, Suite 303 Kingston, NY 12401
800.497.4072 toll-free 845.338.5986 fax


Deep Listening Institute Programs are made possible by the New York Statue Council on the Arts with the support of Governor Andrew Cuomo and the New York State Legislature.