The Jill Johnston Literary Archive
Jill Johnston (1929-2010) is a leading cultural and social critic. As columnist, essayist and author, Johnston has championed the avant-garde, and has been a pioneer in a personal style of nonfiction that helped reshape journalism. Known as both a radical feminist thinker and a salient art critic, Johnston's voice galvanized and inspired a generation of women and men.
She contributed to the Village Voice, to Art News, and the New York Times Book Review. From 1985 to 2008, she was a masthead contributor to Art in America. Her books include Marmalade Me; Gullibles Travels; Mother Bound; Paper Daughter; Secret Lives in Art; At Sea on Land; Jasper Johns: Privileged Information; England's Child: The Carillon and the Casting of Big Bells, and Niki de Saint Phalle: The Tarot Garden.
Her website, www.jilljohnston and her syndicated webcolumn will continue to be active.

The Jill Johnston Literary Archive needs your support toward organizing and preserving Jill's distinguished legacy. The material consists of: Original (mostly handwritten) manuscripts for her Village Voice reviews and columns; typed manuscripts, with corrections and edits, for her 10 books; typed manuscripts for her reviews and articles for the New York Times and for Art in America; research material for all her writing, including typed notes; a photo collection; correspondence with both famous and friends; and over 270 journals. The latter needs to be preserved digitally or else they will decay.

The Deep Listening Institute, Ltd. has graciously offered to be the fiscal sponsor and will accept contributions from the public and/or foundations to further this project.

These are the ways of making your contribution:

Write a check payable to Deep Listening Institute, Ltd., (earmarked on memo line "The Literary Archive/Estate of Jill Johnston") and mail it to:
Deep Listening Institute, Ltd.
PO BOX 1956
Kingston NY 12402

Or

Via credit card by calling the DLI's office (845) 338-5984

Or

By using PayPal through DLI's website, labeled The Literary Archive/Estate of Jill Johnston
The Deep Listening Institute is a not-for-profit organization exempt under section 501©(3) of the Internal Revenue Code, and also classified as a public charity under sections 5009(a)(1) and 170(b)(1)(A)(vi) of the Internal Revenue Code.

Sincerely yours,
Ingrid Nyeboe


---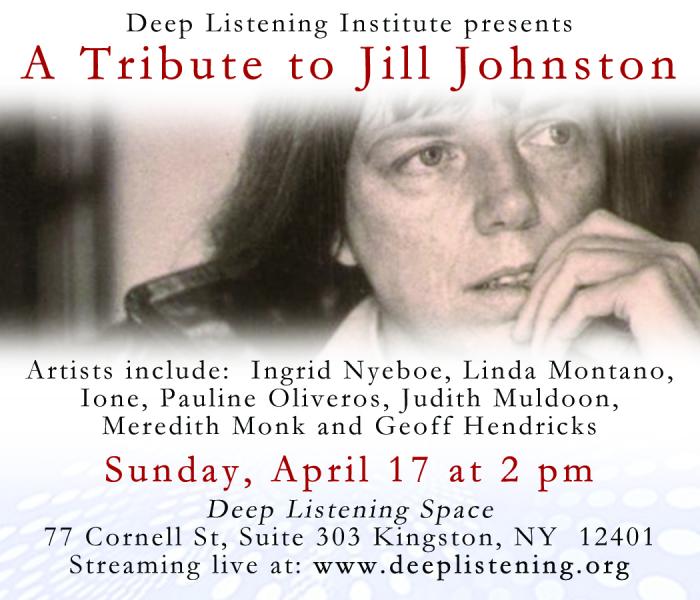 Tribute to Jill Johnston
Performers include Pauline Oliveros, Linda Montano, Ione, Geoff Hendricks, Meredith Monk, Judith Muldoon, Steve Paxton, Malcolm Goldstein, Randy Weinstein and Ingrid Nyeboe.