Dream Stream Festival 2010
Monday, October 18, 2010 - 8:00am
-
Thursday, November 18, 2010 - 11:00pm
Various Locations World-wide, Broadcast live on Dream Stream Festival internet channel
Dream Stream Festival
October 18 - November 18, 2010
Part of Ione's 15th Annual Dream Festival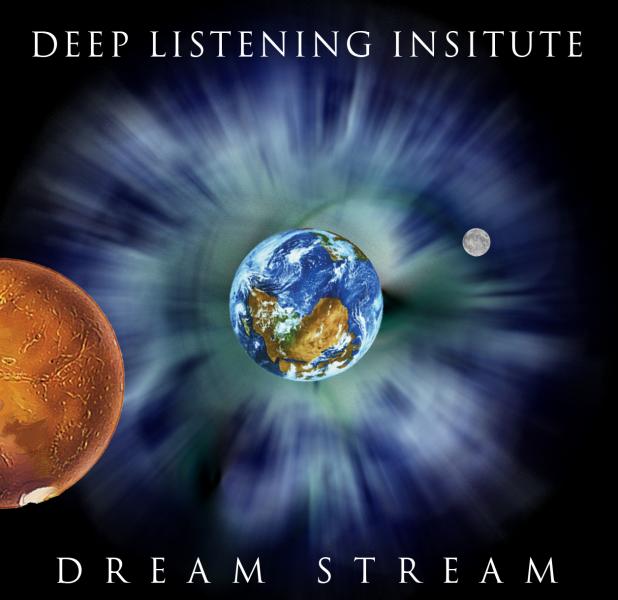 The Dream Stream Festival is an online festival of mini-concerts up to 20 minutes long from different locations around the world. See below for the schedule of events that will be broadcast live at www.deeplistening.org. Past events are available to view. All times posted are Eastern Standard Time (NY timezone).

Dream Stream Calendar of Events

October 19 at 3 pm in Kingston, NY - Viv Corringham and Al Margolis "A Reconvergence of Sorts" - 15 min
Viv Corringham - 15th Annual Dream Festival Artist-in-Residence is a British vocalist, currently based in Minneapolis, USA, Viv Corringham makes performances, installations and soundwalks. Her work has been presented extensively worldwide, including recent appearances at Serralves Museum of Contemporary Art, Portugal; New Adventures In Sound Art, Toronto; Abrons Art Center, New York City; Meridian Gallery, San Francisco; Galata Perform, Istanbul; Women in New Music Festival, Fullerton CA; Spark Electronic Music Festival, Minneapolis. Articles about her have appeared in Organised Sound (UK), Musicworks (Canada), Playing With Words (UK) and For Those Who have Ears (Ireland). She received a McKnight Composer Fellowship through American Composers Forum in 2006. CDs are available on Slowfoot, Emanem, Innova, Move, ARC Music, Aphasia, Soundworks Unlimited, MASH, Rhiannon, Artship, Third Force and NoMansLand. www.vivcorringham.org
Activist in the 1980s American cassette underground through his cassette label Sound Of Pig Music, co-founder of experimental music label Pogus Productions. Active under the name If, Bwana since 1984, making music that has swung between fairly spontaneous studio constructions and more process-oriented composition. A recent review of Margolis's work says: "Let it be declared that Al Margolis/If, Bwana is some sort of evil genius working with raw materials which are never adapted to a genre or a context, because they create one in that very moment. Those sources are radically altered up to an utterly unrecognizable state, anarchic manifestations moving in compact determination." (Massimo Ricci, Touching Extremes). pogus.com

October 24 at 4 pm in Kingston, NY - Pauline Oliveros & Ione "Dreaming of Streaming"- 15 min

October 29 at 9 pm in Brooklyn, NY - Dan Joseph "Dulcimer Dreaming" - 15 min
Dan Joseph is a free-lance composer based in New York City. Since the 1990s, the hammer dulcimer has been the primary vehicle for his music. As a performer he is active with his own chamber ensemble, The Dan Joseph Ensemble, as well as in various collaborations and as a soloist. www.danjoseph.org

October 30 at 8 pm in Appleton, WI - Lawton Hall and Megan Karls "Drift (A Field)" - 10 min
A piece for video and electronics.
footholds.wordpress.com, snowblinds.wordpress.com

October 31 at 6 pm in Austin, TX - Heloise Gold and Lauren Tietz "Is this a Dream" - 8-10 min
Heloise Gold is an interdisciplinary performance dance artist, and teacher of T'ai Chi and movement meditation. "Front and center in Heloise's creations are: experimentation; caring for humanity; trust in the intelligence of the body; and humor. www.heloisegold.com
Lauren Tietz is an interdisciplinary artist currently interested in the contrast between wild and domesticated spaces, both inside ourselves (human) and outside ourselves (the larger system).

November 6 at 4 pm (20:00 GMT) in Berlin Germany - Phantomcrunch "Underwater" - 20 min
Phantomcrunch is an exerimental project of three artists living in Berlin, Germany.
They started performing on 2008 in little bars, squats and little parties.
The music is a mixture of noise, psychedelic pads and broken rhythms.
The set up is made of laptops, different modified drum-machines, effects, microphones, a guitar, vinyls and a mixer. The three artists perform together, using electronic devices as musical instruments and questioning the border of music and non music. www.myspace.com/phantomcrunch

November 11 at 5 pm in Wollongong, New South Wales, Australia
Warren Burt & Catherine Schieve - "Subharmonics and Sruti Boxes" - 20 min
Warren Burt and Catherine Schieve are composers and multi-media artists who live and work in Wollongong, NSW, Australia. They are both involved in music, video, visual arts, and writing. They have collaborated on a number of music and art projects in the past, and have just celebrated their 8th wedding anniversary. www.warrenburt.com
November 11 Time TBA iat the venue Landmark in the city of Bergen, Norway - Child Of Klang /Elin Øyen Vister - "Waterfall Improvisations" - 15-20 min
Child of Klang aka Elin Øyen Vister is a Norwegian soundartist, composer and DJ. She is currently doing her MFA at the art academy in Trondheim, KIT NTNU, where she is following the joint study program Nordic Sound Art. She is engaged in soundart projects based on her interest in areas such as soundscape, deep listening, acoustic ecology and bioacoustics. Her main current project "Soundscape Røst - a sound-art/documentation project about the endagered pelagic seabird population on the Røst archipelago.
childofklang.wordpress.com

November 12 at 12 pm in Barrytown, NY - Sam Truitt "The Limit and the Line" - 18 min
Sam Truitt's books include the forthcoming Vertical Elegies 6: Street Mete, Vertical Elegies: Three Works, Vertical Elegies 5: The Section and Anamorphosis Eisenhower, among others. He is the recipient of a 2010-2011 George A. and Eliza Howard Fellowship, among other awards. He lives in New York's Hudson Valley. samtruitt.org

November 13 at 10:30 am in Barrytown, NY - Michael Ruby "Close Your Eyes" - 20 min
Michael Ruby is the author of five books of poetry—At an Intersection (Alef Books, 2002), Window on the City (BlazeVOX [books], 2006), Fleeting Memories (Ugly Duckling Presse ebook, 2008), The Edge of the Underworld (BlazeVOX, 2010) and Compulsive Words (BlazeVOX, 2010)—and the editor of Washtenaw County Jail and Other Writings by David Herfort (Xlibris, 2005). A graduate of Harvard College and Brown University's writing program, he lives in Brooklyn and works as an editor at The Wall Street Journal.


November 13 at 4 pm in Arnhem, The Netherlands - duo(s)omnium presents 'what goes around comes around'
a dream recycling and proliferation (dream reading with video art and soundscapes or video art with dream reading and soundscapes) with sharon stewart and david berg - 15 min www.handsonpiano.nl


November 13 at 5 pm in Berkeley, CA - Ryan Ross Smith "Lightfigher" - 10-15 min
Ryan Ross Smith is a composer/improviser living in Berkeley, CA, and is currently enrolled at Mills College, working toward an MFA in Electronic Music. He has written music for film, dance, and television, and has performed his music throughout North America and Europe. www.powplay.me
November 13 at 7 pm in Brooklyn, NY - Jessica Brooks "JBNoelle" - 5-10 min
Christian Artist from Columbia,SC. Has an influence of neo-soul and jazz as a sound. JBNoelle grew up in church every Sunday as a child. Her mother was a church musician and her father a preacher. One would think growing up in the church would translate into a passion for God, but it didn't. "I didn't end up giving my life to Christ until the summer after my freshman year of college. Seeing the grace of God in my life has totally rocked life." She has a passion for music and a heart to see her generation come to Christ. This interesting blend of jazz and neo soul wrapped in a Christ centered message is sure to catch your ear and capture your soul! www.myspace.com/jessb803

November 14 at 2 pm from Oakland, CA; Sydney, Montana; and Brooklyn, NY
Vorticella "Vorticella" - 20 min
Vorticella are inverted bell-shaped ciliates. Each of these single-celled organisms has a separate, anchored stalk. Some are grouped as colonies, but because each Vorticella has its own individual stalk it can detach from the cluster at any time. We are a complex sound generating entity bearing a strong resemblance to the Vorticella. Members include Krys Bobrowski- Kelp, French horn and gliss glass, Erin Espeland- cello
Brenda Hutchinson- Long Tube & Karen Stackpole- percussion (especially gongs). www.vorticella.com

November 14 at 3 pm in Ottawa, Canada - Jesse Stewart "When Whales Dream of Music" - 10-15 min
Jesse Stewart is an award-winning composer, percussionist, improviser, visual artist, sound artist, instrument builder, and writer dedicated to re-imagining the spaces between artistic disciplines. He is a professor of music composition at Carleton University in Ottawa, Canada. www.jessestewart.ca

November 17 at 5 pm in Troy, NY - Doug Van Nort "Music for Daymares" - 20 min
Doug Van Nort is an experimental musician and digital music researcher whose work spans composition, improvisation, installation and interactive system design. He performs in the trio Triple Point with Pauline Oliveros and Jonas Braasch, also recently collaborating with Francisco Lopez, Stuart Dempster, Chris Chafe, Al Margolis, Ben Miller among others. www.music.mcgill.ca/~doug

November 18 Time TBA in Kingston, NY - Jackie Heyen and Leaf Miller- 15 min

Time TBA in Kingston, NY- David Arner "Cosmos IV (Dream Version) - 20 min
Pianist, composer, harpsichordist, percussionist- David Arner is a long time proponent of innovative music and spontaneous composition. His wide interests have encompassed the avant-garde, birding, mythology, astrology, dance and silent film within his musical pursuits. He currently has 3 CDs with his trio, with Michael Bisio (bass) and Jay Rosen (drums). www.davidarner.com