Philip Gelb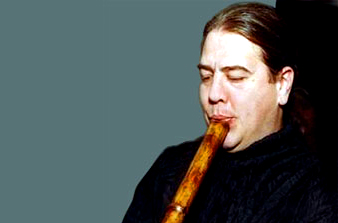 Philip Gelb began studying shakuhachi while a senior in College at the University of Florida where he recieved a BA in anthropology. His first shakuhachi teacher was Dr. Dale Olsen bai-o who introduced him to kinko ryu shakuhachi playing. He also studied Meian Ryu shakuhachi with Ronnie Nyogetsu Seldin and Kurahashi Yoshio. His traditional shakuhachi studies have concentrated on Honkyoku, the solo Buddhist repetoire. In addition he always had a very strong interest in new and experimental music and improvisation.
Philip Gelb attended graduate school at the Florida State Universtity School of Music studying ethnomusicology. While at FSU, he founded and directed the New World Ensemble. As director of this ensemble he was responsible for holding several artists in residences which included: George Lewis, Richard Teitelbaum, Wadada Leo Smith, Davey Williams, Derek Bailey, Ladonna Smith, Shaking Ray Levis and Lawrence "Butch" Morris. The Butch Morris residency culimnated in a cd that was released on New World/Countercurrents as part of Butch's 10 cd box set. The group also collaborated with several other great musicians including: Kazue Sawai, Jill Burton Gustavo Matamoros, Scott Walton, David Durant and Dana Reason. The New World Ensemble continues today at the FSU School of Music though it has been several years since any of its founding members were there.
Heloise Gold
Heloise Gold lives in Austin Texas. She is a performing artist, choreographer, dancer , t'ai chi/chi gong instructor and co-founder of Art from the Streets (a project for homeless artists). She has been co-leading deep listening retreats with Pauline Oliveros and Ione since their inception in 1991.
Originally from NYC, she trained in ballet since the age of 4 and as a young teen performed with the Bolshoi and Kirov ballets during their early visits to the US. In her early 20's her interests shifted to experimental forms. She studied and performed with Robert Wilson, Simone Forti and was a member of Quena Company (an experimental open theatre ensemble). Gold moved to Austin in 1978 and performed and toured with the Deborah Hay Dance Company for 5 years. In 1980 she started creating her own full length works. Her love of ritual, improvisation, collaboration, social issues, comedy and the absurd always play a big part in her pieces.
Heloise is the recipient of many grants from the City of Austin, the Texas Commission for the Arts and a new forms initiative from the NEA.

Heloise's Website
Scot Gresham-Lancaster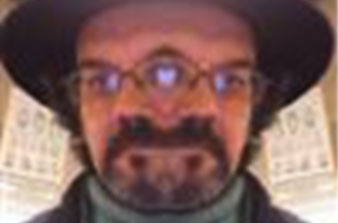 Scot Gresham-Lancaster is a composer, performer, instrument builder and educator. He is dedicated to research and performance using the expanding capabilities of computer networks for musical and cross discipline expression.
Scot Gresham-Lancaster studied with Philip Ianni, Roy Harris, Darius Milhaud, John Chowning, Robert Ashley, Terry Riley, "Blue" Gene Tyrany and Jack Jarret among others. He has been a composer in residence at Mills College. At STEIM in Amsterdam he has been doing ongoing work to develop new families of controllers. He has toured and recorded as a member of the HUB. He has performed the music of Alvin Curran, Pauline Oliveros, John Zorn, and John Cage, under their direction, and worked as a technical assistant to Lou Harrison, Iannis Xenakis, David Tudor among many others.
Edith Gutierrez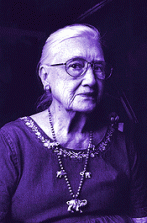 Edith Gutierrez is a pianist and composer from Houston, Texas. She was born in 1914 and grew up in a musical family where her mother was a musician and piano teacher. With her second husband, Patricio Gutierrez, she established Greenbriar Music Studios in 1951, where she was a private piano instructor for 15 years. She has continued teaching following the death of her husband. Express Theater, based in Houston has commissioned Gutierrez to write and compose three music theater works since 1991, the most recent of which, Pocahontas, will premiere in June of 1994. She is a member of Professional Musicians Association, American College of Musicians, Houston Music Teachers Association, Inc., Texas Music Teachers Association, and Music Teachers National Association. For the 1993 season she was the resident pianist at Kuumba House, a summer fine arts program in Houston.
Janet Hammock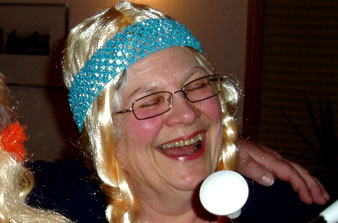 Janet Hammock, composer and pianist, was born in 1942 in Vancouver, British Columbia, Canada. She holds an Artist Diploma from the University of Toronto, and both Master and Doctor of Musical Arts degrees from Yale University. She has studied music at the Banff School of Fine Arts, in New York City on a Canada Council Grant, and at the Yale Summer School of Music and Art in Norfolk, Connecticut. Her performances of solo and collaborative piano music have been presented across Canada, in the United States, and in Europe. She has often commissioned other Canadian composers, including, most recently, Michael Miller, Ann Southam and Alasdair MacLean, to write works for her to premiere. Her recitals have been broadcast by the Canadian Broadcasting Corporation, and by Radio Canada.
After teaching at the university level for 31 years, Janet took an early retirement in 2001 and was appointed Professor Emeritus of Music at Mount Allison University in Sackville, New Brunswick, Canada. Recent performances have included several imaginative collaborative recitals of poetry and piano music with colleague Dr. Robert Lapp: The Sights and Sounds of Childhood and Celebrating the Romantic Spirit in Poetry and Music. Together with Lapp she presented a paper entitled Performing Byron: Alongside Liszt, Chopin and Keats at the 2004 International Byron Conference: Byron and the Romantic Sublime. They are currently developing a series of performances and lectures designed to illuminate the nocturne in 19th and 20th century piano music, poetry and painting. Nocturne performances are planned Eastern Canada and the United States between August 2007 and April 2008.
Pauline Oliveros has long been an influence on Janet's creative work since their first meeting in the mid-60's. Since that time, she has taken workshops with Oliveros in Newfoundland while at Sound Symposium, and completed three Deep Listening Retreats with Oliveros, Ione, and Heloise Gold at Rose Mountain, New Mexico. After becoming a Certified Deep Listening practitioner, Janet created and taught a university course designed for both music and non-music majors - Sonic Explorations - rooted in the practice of Deep Listening. Her teaching also opens "earlids" through the use of innovative listening exercises developed by the world-renowned Canadian acoustic ecologist, educator and composer, R. Murray Schafer. In her lectures, demonstrations and workshops Janet skillfully adapts listening strategies to specific groups of individuals in various professions and life stages. Most recently, in July 2006 at New Brunswick's Festival by the Marsh, teens and adults participated together in her DL workshop whimsically titled Sirius Listening in the Year of the Dog! She has been invited to conduct two Deep Listening sessions in May, 2008 at Podium 2008, Choral Waves - Ondes Chorales, the national conference of the Association of Canadian Choral Conductors.
R.I.P. Hayman
Hayman composes and performs music with voice, instruments, electronics and effects for concert, theater, dance, media events, film and video. Born in 1951 in New Mexico, Hayman studied at Columbia University and with John Cage, Chou Wen-chung, Peter Kotik and Philip Corner. His works have been presented in venues across the Americas, Europe and Asia. He has many broadcast credits and his writings have appeared in numerous journals and anthologies. He was a founding senior editor of Ear Magazine of new music. He is also sinologist and consultant in Chinese cultural affairs.
Jaclyn Heyen, M.M.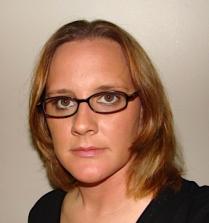 Assistant to the Directory of AUMI
Jaclyn Heyen earned her Master of Music Technology at Florida International University. Her research focuses on the use of music technology within a therapeutic environment. This interest informs much of her creative work, which often utilizes unique ways of working with music technology that involve motion tracking and/or unique interfaces such as an audio controller built out of the body of a scooter. She also has a deep interest in the soundscape and soundwall, how one listens and defines them selves through noise.
Her pieces have been performed at many festivals, conferences and concerts including Subtropics 20 and FTM10. Her articles have been published in the International Computer Music Conference (ICMC) Proceedings and Making Waves Journal.
Brenda Hutchinson
Brenda Hutchinson is a composer and sound artist whose work is based on the cultivation and encouragement of openness in her own life and in those she works with. Hutchinson encourages participants to experiment with sound, share stories, and make music. Brenda also improvises on a 9 1/2 foot tube with a gestural interface she designed. She has been an artist in residence at San Quentin Prison, Headlands Center for the Arts, Harvestworks, Exploratorium, Ucross and Djerassi. She is the recipient of the Gracie Allen Award from American Women in Radio and Television and has received support from the NEA, Lila Wallace, McKnight Foundation, and NYSCA and Meet the Composer among others. Recordings of her work are available through TELLUS, Deep Listening, O.O. DISCS, Frog Peak Music and Leonardo Music Magazine. Brenda will drive cross-country for any reason.
Ione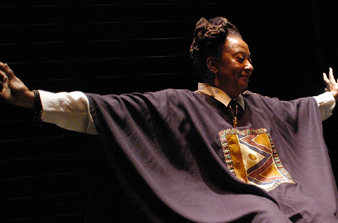 Artistic Director
Ione is an author/playwright/director and an improvising word/sound artist. Her works include the critically acclaimed memoir, Pride of Family; Four Generations of American Women of Color, Nile Night, Remembered Texts from The Deep, Listening in Dreams & This is a Dream! She is playwright and director of Njinga the Queen King, (BAM's Next Wave Festival) the dance opera Io and Her and the Trouble with Him (Union Theater, Wisconsin), The Lunar Opera; Deep Listening For_Tunes, (Lincoln Center Out of Doors) and the experimental narrative film Dreams of the Jungfrau, shot high in the Swiss Alps. All feature music and sound design by Pauline Oliveros. She and Oliveros are currently collaborating with Egyptian artists on The Nubian Word for Flowers, A Phantom Opera. Inspired by the Nubian Diaspora and the life of Lord Horatio Herbert Kitchener of Khartoum, the opera is "a deep dream exploration of the Colonial Mind". A specialist in dreams and the creative process, Ione conducts retreats throughout the world. She is Artistic Director of Deep Listening Institute, Ltd. and Director of the Ministry of Maåt, Inc. Both organizations act to foster harmonious world community.