Linda Law
New York, USA
Digital Imaging, Digital Holography, Multimedia
My identity as both a woman and an artist is embodied through the archetype of the Green Woman. She is shape-shifter, a mover between worlds, a co-creator with Nature. Her work is intended to provide connections, doorways, portals into the Natural world.
Through a series of interlinked and evolving projects I am presenting to the world a form of shamanic vision, like a web of living thoughts that any of us can dream. Using new technology, holograms, digital images, high resolution stereo video and holographic sound I collect elements recorded from natural sources or communications from the natural world and distill them into forms that are a part of the extended energetic realm of the Green Woman. Each project is designed to provide portals into other realms, fresh visions of essential parts of our being, images of power that make statements about the beings they record.
Phoebe Legere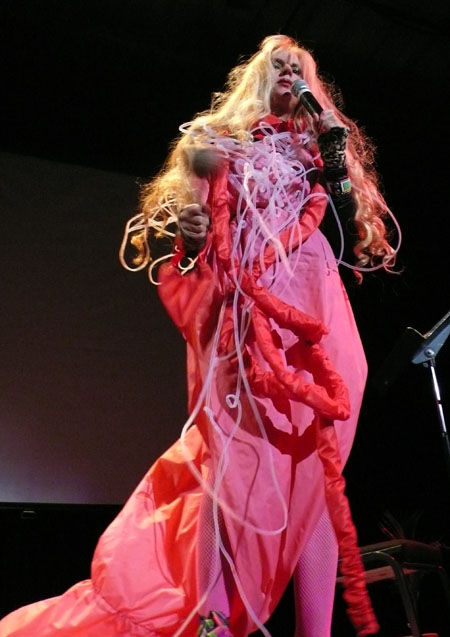 New York, USA
TRANSMEDIA SOUND ARTIST.
Using film, music, installation, electronics, paint, circuits, invented instruments, traditional instruments, performance art, poetry, costumes and movement I create physical singing theater.
My current project:
The communal eating of the body of God is a theme found in many religions. In my Opera Symphony I play Corn Mother, the Penobscot cultural heroine who allowed herself to be dismembered and eaten so that her people could live. The Mother Symphony is a critique of modern consumerism and gluttony. I use hunger as metaphor for abusive power relationships. With drawings, costumes, music, projected scores, texts and orchestration I show how the human body evolved. Both Native Americans and scientists agree that all life forms are descended from one organism. The Penobscot people of Maine called her "Corn Mother;" evolutionary Biologists call her, "Thermaplast," the heat loving, sulpher eating modal bacter that lived in hydrothermal vents on the ocean floor 3.6 billion years ago. Mother Symphony will underline the processes that transform food and water into life. I will condemn the culture of death that draws people into fatal addictions and self-negating choices. The Human Intestine contains 100 trillion microorganisms all coexisting and working together. The diversity, fragility and ecology of the GI tract is something ignored by most Americans. The human intestine is a fragile environment. Each person is the steward of his or her internal ecosystem. As one doctor has said, "the American diet leads to American diseases." Using paintings, films, text and orchestration I will conjure ancient organisms whose descendants we are. Reaching back into early earth history and the co-evolution of plants and animals, I will make a visionary plea to the healing world of plants and I will invoke the ancient Penobscot mythic animals and heroes to help me generate an iconography of self transformation. In this era of post- post- feminism the time is right for a fully orchestrated multimedia salute to our supernatural creative hero, Corn Mother.

http://www.nyundergroundmuseum.org/artist1.php
Norman Lowrey
Norman Lowrey is a mask maker/composer, Chair of the Music Department at Drew University with Ph.D. from the Eastman School of Music. He is the originator of Singing Masks, which incorporate flutes, reeds, ratchets and other sounding devices. He has presented Singing Mask ceremony/performances at such locations as Plan B and SITE Santa Fe in Santa Fe New Mexico, Roulette and Lincoln Center in New York, and at the site of pictograph caves outside Billings, Montana. His most recent work has been making virtual versions of his masks for use by the Avatar Orchestra Metaverse online in Second Life.
"Musical imagination (and all art as far as I'm concerned) begins with listening. The Deep Listening Institute is doing work which is at music/art's heart. It's at the core of my life/work. To quote Keith Jarrett, "It's all about listening... and being ready.""

All Releases by Norman Lowrey