Philip Gelb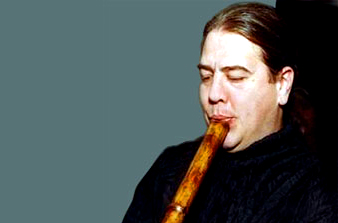 Philip Gelb began studying shakuhachi while a senior in College at the University of Florida where he recieved a BA in anthropology. His first shakuhachi teacher was Dr. Dale Olsen bai-o who introduced him to kinko ryu shakuhachi playing. He also studied Meian Ryu shakuhachi with Ronnie Nyogetsu Seldin and Kurahashi Yoshio. His traditional shakuhachi studies have concentrated on Honkyoku, the solo Buddhist repetoire. In addition he always had a very strong interest in new and experimental music and improvisation.
Philip Gelb attended graduate school at the Florida State Universtity School of Music studying ethnomusicology. While at FSU, he founded and directed the New World Ensemble. As director of this ensemble he was responsible for holding several artists in residences which included: George Lewis, Richard Teitelbaum, Wadada Leo Smith, Davey Williams, Derek Bailey, Ladonna Smith, Shaking Ray Levis and Lawrence "Butch" Morris. The Butch Morris residency culimnated in a cd that was released on New World/Countercurrents as part of Butch's 10 cd box set. The group also collaborated with several other great musicians including: Kazue Sawai, Jill Burton Gustavo Matamoros, Scott Walton, David Durant and Dana Reason. The New World Ensemble continues today at the FSU School of Music though it has been several years since any of its founding members were there.
Heloise Gold
Heloise Gold lives in Austin Texas. She is a performing artist, choreographer, dancer , t'ai chi/chi gong instructor and co-founder of Art from the Streets (a project for homeless artists). She has been co-leading deep listening retreats with Pauline Oliveros and Ione since their inception in 1991.
Originally from NYC, she trained in ballet since the age of 4 and as a young teen performed with the Bolshoi and Kirov ballets during their early visits to the US. In her early 20's her interests shifted to experimental forms. She studied and performed with Robert Wilson, Simone Forti and was a member of Quena Company (an experimental open theatre ensemble). Gold moved to Austin in 1978 and performed and toured with the Deborah Hay Dance Company for 5 years. In 1980 she started creating her own full length works. Her love of ritual, improvisation, collaboration, social issues, comedy and the absurd always play a big part in her pieces.
Heloise is the recipient of many grants from the City of Austin, the Texas Commission for the Arts and a new forms initiative from the NEA.

Heloise's Website
Scot Gresham-Lancaster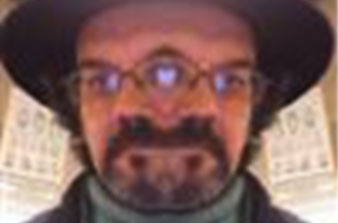 Scot Gresham-Lancaster is a composer, performer, instrument builder and educator. He is dedicated to research and performance using the expanding capabilities of computer networks for musical and cross discipline expression.
Scot Gresham-Lancaster studied with Philip Ianni, Roy Harris, Darius Milhaud, John Chowning, Robert Ashley, Terry Riley, "Blue" Gene Tyrany and Jack Jarret among others. He has been a composer in residence at Mills College. At STEIM in Amsterdam he has been doing ongoing work to develop new families of controllers. He has toured and recorded as a member of the HUB. He has performed the music of Alvin Curran, Pauline Oliveros, John Zorn, and John Cage, under their direction, and worked as a technical assistant to Lou Harrison, Iannis Xenakis, David Tudor among many others.
Edith Gutierrez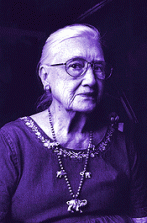 Edith Gutierrez is a pianist and composer from Houston, Texas. She was born in 1914 and grew up in a musical family where her mother was a musician and piano teacher. With her second husband, Patricio Gutierrez, she established Greenbriar Music Studios in 1951, where she was a private piano instructor for 15 years. She has continued teaching following the death of her husband. Express Theater, based in Houston has commissioned Gutierrez to write and compose three music theater works since 1991, the most recent of which, Pocahontas, will premiere in June of 1994. She is a member of Professional Musicians Association, American College of Musicians, Houston Music Teachers Association, Inc., Texas Music Teachers Association, and Music Teachers National Association. For the 1993 season she was the resident pianist at Kuumba House, a summer fine arts program in Houston.