Ximena Alarcon Diaz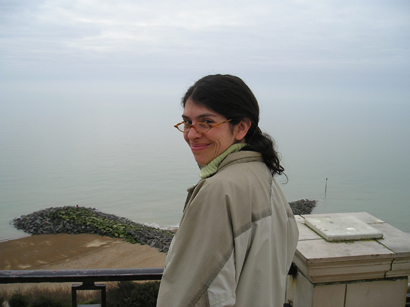 Born in Bogotá - Colombia, Lives in Leicester - United Kingdom
Art form:
Interactive Sonic Environments (on-line)
Sound compositions
As a woman, I use my non-linear thinking to travel through ideas about the creative use of technologies. This is represented in my digital multimedia scores. As an artist, my expression is inextricably linked to urban life and to the intangible presence of the "sublime" in its everyday routines. Sound has been my main resource for relating to the intimacy of the environment. Underground public transport systems have been the context of my recent work. They determine the paths for, and are catalysts of, real and symbolic migrations. Their powerful sounds and technological infrastructure involve us, changing both our perception of space and time and our memory in relation to place. I am interested in what is constructed in our memories by listening while travelling, and in our options for building collective memories using new media technologies, in the search for identity and place.
Linking urban soundscapes via commuters' memories
http://soundingunderground.org
Migratory Dreams at Furtherfield Gallery
http://networkedmigrations.wordpress.com
Ximena Alarcon
http://ximenaalarcon.net
Susan Alcorn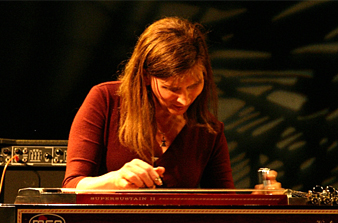 Susan Alcorn began playing the pedal steel guitar over 25 years ago, and in that time has evolved into a musician/composer of such rare inspiration that her music has redefined, for many, the very perception of the instrument itself.
As a child in the 1950's and 1960's she was surrounded by the big-band music that her parents listened to as well as the pop music that blared on her radio. She picked up the guitar when she was thirteen, and soon began playing slide guitar (inspired in particular by Muddy Waters, Robert Johnson and Son House) and dobro (her favorites were Mike Auldridge, Josh Graves, and Tut Taylor). A few years later, she began playing the pedal steel guitar and performed regularly with country-western bands in Texas.
Although Alcorn's initial work with pedal steel focused on the styles of the players usually associated with it - namely, country and western swing, she was at the same time profoundly influenced by John Coltrane, Ornette Coleman, and 20th Century classical composers such as Messaien, Penderecki, and Piazzolla. By the late 1980s, after performing straight-ahead jazz for ten years, she took the advice of Paul Bley, with whom she had been corresponding; she "threw away the real book" and began to develop a truly distinct approach to the instrument - one that incorporates jazz, minimalism, Gamelan Music, Indian Classical music, the folk music of Latin America, to name but a few of the catalysts.
Although Susan Alcorn typically plays solo, she has collaborated in performance with electronic composer Pauline Oliveros, German bassist Peter Kowald, and multi-instrumentalist Eugene Chadbourne. "Uma", her debut CD, was released on the US label Loveletter Recordings in the summer of 2000, and a CD of recordings with Chadbourne, "Texas Music", was released on Chadbourne's own imprint soon afterward. Ms. Alcorn currently resides in Houston, TX
David Arner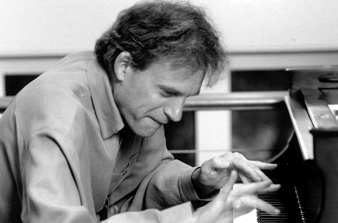 David Arner (piano, harpsichord, percussion) is a long time proponent of innovative music and spontaneous composition. While well known for his solo work, Arner is also actively working with bassists Michael Bisio and Adam Lane, saxophonist Avram Fefer, cellist Tomas Ulrich and percussionist Jay Rosen. He has also collaborated with poets Chuck Stein and Mikhail Horowitz, and choreographer Susan Osberg. Arner has performed throughout the country for more than 30 years, including many performances at the Knitting Factory (in the 1990s), and more recently at the Center for Performing Arts (Rhinebeck) and Deep Listening Space. He has also pioneered a re-vitalization of new music for silent film for many years.