Ximena Alarcon Diaz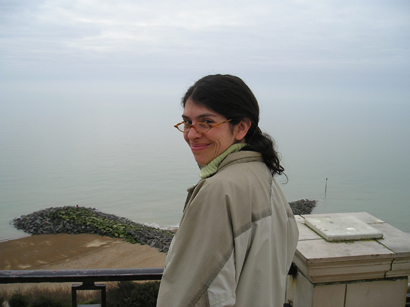 Born in Bogotá - Colombia, Lives in Leicester - United Kingdom
Art form:
Interactive Sonic Environments (on-line)
Sound compositions
As a woman, I use my non-linear thinking to travel through ideas about the creative use of technologies. This is represented in my digital multimedia scores. As an artist, my expression is inextricably linked to urban life and to the intangible presence of the "sublime" in its everyday routines. Sound has been my main resource for relating to the intimacy of the environment. Underground public transport systems have been the context of my recent work. They determine the paths for, and are catalysts of, real and symbolic migrations. Their powerful sounds and technological infrastructure involve us, changing both our perception of space and time and our memory in relation to place. I am interested in what is constructed in our memories by listening while travelling, and in our options for building collective memories using new media technologies, in the search for identity and place.
Linking urban soundscapes via commuters' memories
http://soundingunderground.org
Migratory Dreams at Furtherfield Gallery
http://networkedmigrations.wordpress.com
Ximena Alarcon
http://ximenaalarcon.net
Susan Alcorn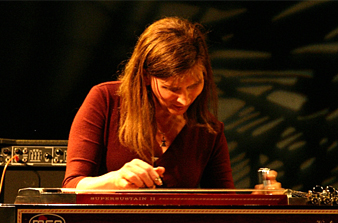 Susan Alcorn began playing the pedal steel guitar over 25 years ago, and in that time has evolved into a musician/composer of such rare inspiration that her music has redefined, for many, the very perception of the instrument itself.
As a child in the 1950's and 1960's she was surrounded by the big-band music that her parents listened to as well as the pop music that blared on her radio. She picked up the guitar when she was thirteen, and soon began playing slide guitar (inspired in particular by Muddy Waters, Robert Johnson and Son House) and dobro (her favorites were Mike Auldridge, Josh Graves, and Tut Taylor). A few years later, she began playing the pedal steel guitar and performed regularly with country-western bands in Texas.
Although Alcorn's initial work with pedal steel focused on the styles of the players usually associated with it - namely, country and western swing, she was at the same time profoundly influenced by John Coltrane, Ornette Coleman, and 20th Century classical composers such as Messaien, Penderecki, and Piazzolla. By the late 1980s, after performing straight-ahead jazz for ten years, she took the advice of Paul Bley, with whom she had been corresponding; she "threw away the real book" and began to develop a truly distinct approach to the instrument - one that incorporates jazz, minimalism, Gamelan Music, Indian Classical music, the folk music of Latin America, to name but a few of the catalysts.
Although Susan Alcorn typically plays solo, she has collaborated in performance with electronic composer Pauline Oliveros, German bassist Peter Kowald, and multi-instrumentalist Eugene Chadbourne. "Uma", her debut CD, was released on the US label Loveletter Recordings in the summer of 2000, and a CD of recordings with Chadbourne, "Texas Music", was released on Chadbourne's own imprint soon afterward. Ms. Alcorn currently resides in Houston, TX
David Arner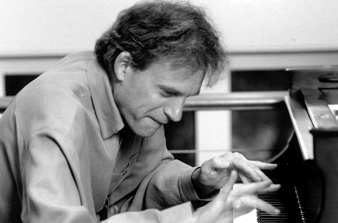 David Arner (piano, harpsichord, percussion) is a long time proponent of innovative music and spontaneous composition. While well known for his solo work, Arner is also actively working with bassists Michael Bisio and Adam Lane, saxophonist Avram Fefer, cellist Tomas Ulrich and percussionist Jay Rosen. He has also collaborated with poets Chuck Stein and Mikhail Horowitz, and choreographer Susan Osberg. Arner has performed throughout the country for more than 30 years, including many performances at the Knitting Factory (in the 1990s), and more recently at the Center for Performing Arts (Rhinebeck) and Deep Listening Space. He has also pioneered a re-vitalization of new music for silent film for many years.
Nancy Beckman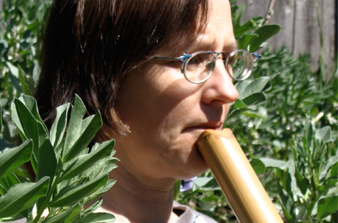 Nancy Beckman began studying the shakuhachi (Japanese bamboo flute) at Meianji Zen temple in Kyoto where she learned the traditional solo Zen Buddhist repertoire and received her license to teach. She studied shakuhachi and ethnomusicology at Wesleyan University and later used photography, shakuhachi, and Japanese language in site-specific performance art pieces. Currently based in Berkeley, California, she teaches the solo shakuhachi repertoire as a spiritual practice. She is also a Certified Music Practitioner in the Music for Healing and Transition Program. She performs with Tom Bickley in the ensembles Cardew Choir, Gusty Winds May Exist, and Dream Down Duvet (also with Viv Corringham).
Laura Biagi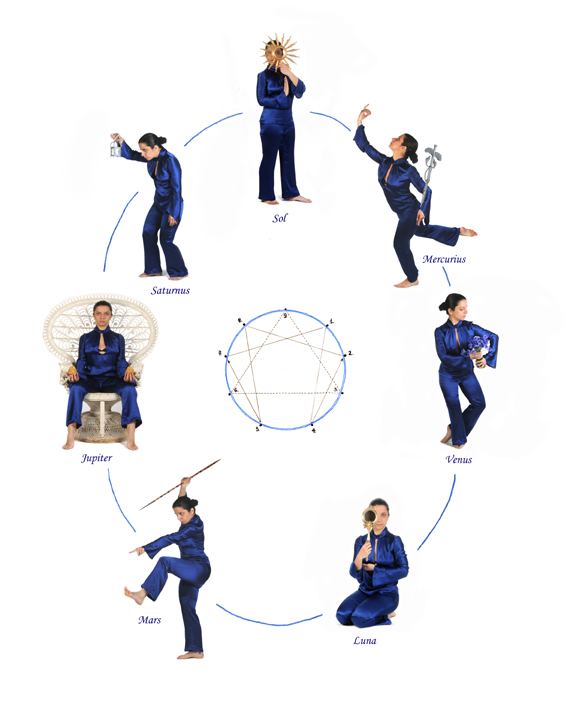 Florence, Italy
Performance art
I was born in Siena, Italy and now live between Firenze and New York. Traveling is a great gift.
My research is a journey towards self-knowledge. My tools are foreign exchanges, music, dance, art, astrology. My training comes from academic traditions and from oral traditions. I teach Italian folk music and dance and Florentine Renaissance art (New York University in Florence and Vassar College, NY) and work as a licensed tour guide in Florence, Italy. Both my performance work and my teachings are the fruit and the seed of my spiritual quest whose direction is in the accommplishment of wholeness. RESIDENCY PROJECT: "The Dance of the Sun", a dance piece based on the symbology of numbers 3, 7, and 9, and on the motion of planets. This piece was first presented at opening of the art exhibit ASTRALIA in Venice, Italy, May 2008.
Tom Bickley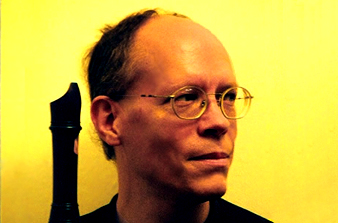 Tom Bickley (recorder + electronics + voice) listens to the world always hoping to hear more and more fully. He grew up in the semitropical soundscape of Houston, sojourned in Washington, DC
(studying music, religion, and information science) and came to California as a composer in residence at Mills College. In Berkeley he lives and sings at Incarnation Priory (an Episcopal Benedictine community), teaches privately, at the Bay Area Center for Waldorf Teacher Training and on the library faculty at California State University East Bay. He plays with shakuhachi player Nancy Beckman as Gusty Winds May Exist and directs the Cornelius Cardew Choir.
Anne Bourne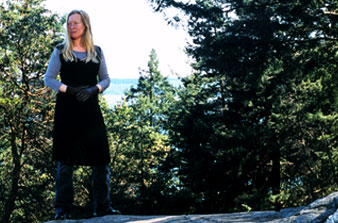 Anne Bourne is a composer, cellist and vocalist. She has performed and recorded internationally with many artists in creative music genres including Jane Siberry, Fred Frith eric chenaux, Copyright, Tom Cora, Sarah MacLachlan, Susie Ibarra, and Joelle Leandre among others. Anne has created scores for film and dance with Peter Mettler, Atom Egoyan, Andrea Nann and Michael Ondaatje. Anne first met Pauline Oliveros when she was invited to perform a distance concert with The Deep Listening Band in New York and groups in Paris and Toronto, in 1994. She then participated in the Rose Mountain Retreats for the years that followed until the milleneum shift. Bourne performed Oliveros' Primordial Lift recorded for TotE with Oliveros, Tony Conrad and David Grubbs. Anne was a participant in the DL Opera at Lincoln Centre with her young daughter Willa. Current recording called dearness, with John Oswald and Fred Frith on Spool. Anne improvises with dwct, Quorum, and Eve Egoyan. Anne "is an earthy, unrestrained musical force, she accompanies her cello with otherwordly vocalizing" - CODA magazine
Jonas Braasch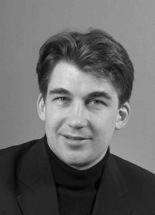 Vice-President
Jonas Braasch is an acoustician, musicologist, and sound artist who teaches courses in Acoustics, Music, and the Doctoral Seminar at the School of Architecture at Rensselaer Polytechnic Institute. He obtained a master's degree from Dortmund University (Germany, 1998) in Physics and two PhD degrees from Ruhr-University Bochum, Germany (2001, 2004) in Electrical Engineering/Information Science and Musicology. Mr. Braasch is the co-founder and director of the Communication Acoustics and Aural Architecture Research Laboratory (CA3RL) which is part of RPI's Architectural Acoustics Program. His research interests include Binaural Hearing, Multi-channel Audio Technology, Telematic Music Systems, Perceptual Audio/Visual Integration, Intelligent Systems, and Musical Acoustics. Jonas Braasch (co-)authored more than 60 journal and conference papers and 3 monographs. For his work, he has received funding from the NSF, NSERC, DFG (German Science Foundation), and NYSCA.
As a soprano saxophonist and sound artist, he has on-going collaborations with Curtis Bahn, Chris Chafe, Michael Century, Mark Dresser, Pauline Oliveros, Doug van Nort, and Sarah Weaver - among others.
Sadee Brathwaite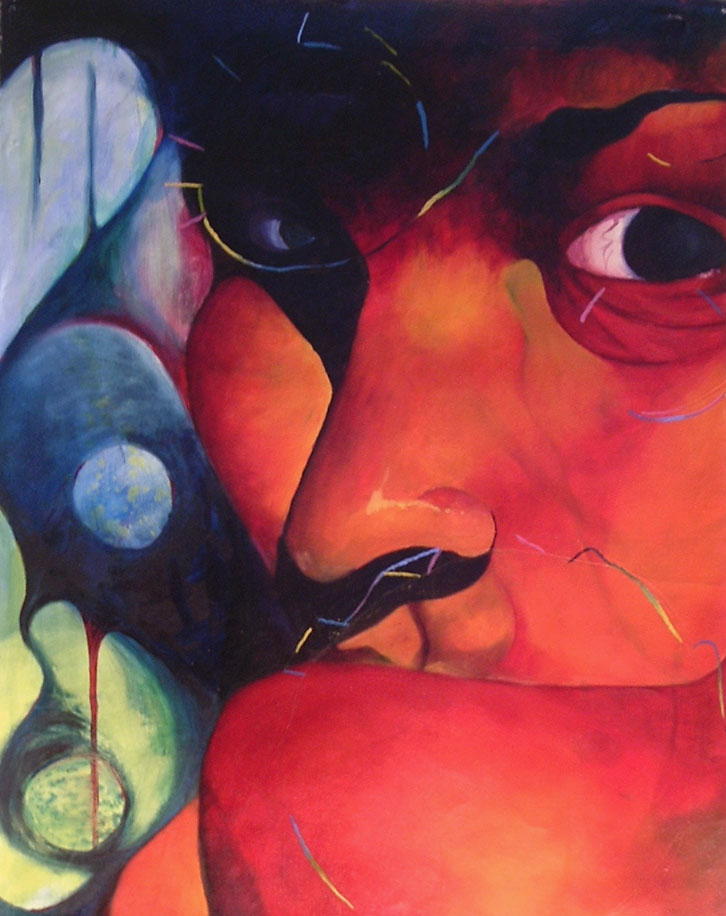 New York, USA
Visual Artist
As an artist who creates work that is almost exclusively about women, my identity as a woman and an artist is intrinsically linked. My work explores issues of beauty and universal womanhood. By painting the many faces of women I am able to connect to archetypal beings who celebrate women's energies, thoughts, dreams, memories and spirit. As I create this art I reveal apects of myself and my connection to womanhood. The work speaks in the language of multitude and I feel immense reverence in being able to translate my individuality as a woman artist into something far greater than myself.
Wendy Burch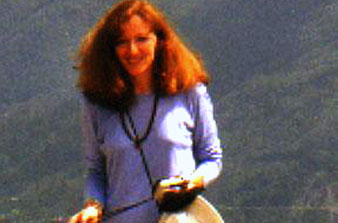 Wendy Jeanne Burch is a poet and singer/performer, published internationally, with her Masters degree in Creative Writing. She has performed with poetry, movement, and voice in various venues with other artists, including her late husband composer/performer Joe Catalano, Pauline Oliveros, Marianne Tomita-McDonald, Toyoji Tomita, Erika Rogers, and others. Her most recent book is Traffic Prayers, with CD, and is available through the Deep Listening Catalog.
Wendy also is an animal and people psychic communicator, and a Reiki Master; she owns two pet related businesses, and is a sculptor/artist. She lives with her partner, Jon Steel, and her puppy, birds, fish and snake in the beautiful Oakland Hills of California.