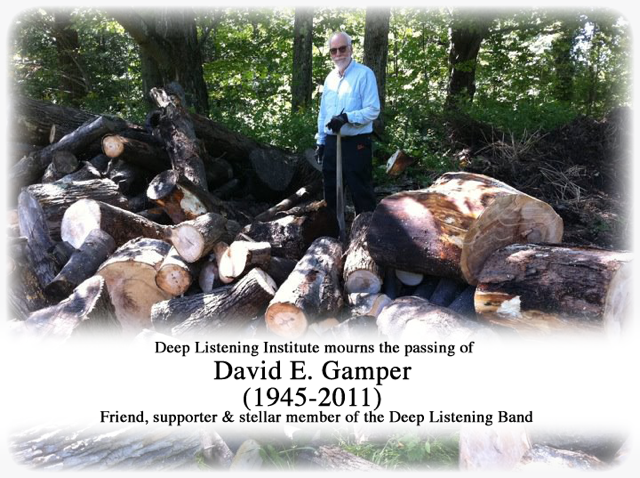 photo credit: Gisela Gamper
My long-time friendship with David and Gisela Gamper began in 1971 at the University of California San Diego. David was an MA candidate in electronic music studio design at UCSD and as professor of music I chaired his MA committee. In 1973 both David and Gisela joined my Meditation project at the Center for Music Experiment. The project met four hours a day for ten weeks to explore mind/body practices and to perform my Sonic Meditations pre-cursor to Deep Listening. David recorded all of these sessions. On David's graduation they left UCSD and moved to their home in Landgrove, Londonderry Vermont, continued their music and art practices, raised son Christopher and tended their goat farm. Once in a while during the 1980s I would see David and Gisela in New York city at an avant-garde performance. Afterward they would zip back to Vermont.

In 1990 David & Gisela moved to Kingston NY to help with the Pauline Oliveros Foundation (POF - name changed to Deep Listening Institute, Ltd in 2005). They both served on the POF board of directors with David serving as Treasurer. Their presence and energies were instrumental in moving our work forward.

David joined Deep Listening Band (DLB) in 1991 and helped develop the Expanded Instrument System (EIS) and two papers we wrote together about EIS were published. David's musicality and technical skill were a core part of DLB's music making. DLB recorded several CDs in David's Kingston studio including "Deep Time" and "Sanctuary". Subsequently DLB toured nationally and internationally including Japan, the Canary Islands and Sweden to perform.

Our last time with David as a member of DLB was a marvelous week-long residency at Town Hall Seattle. We were treated to a week of expert technical support from University of Washington's DXArts, and also major assistance from UW's School of Music. For the first time in our long history together David was freed up from serving as technical supporter of DLB as well as performer. All we had to do was come in each day and play and thus the recordings we made seemed to reach a pinnacle of our performances. We three strongly felt that together.

We are deeply grieved at the sudden loss of our beloved band mate and supporter and we will continue to honor David's musicianship, support and camaraderie. DLB, though not the same without him, will continue to commemorate David in our recordings and performances. We thank Gisela for her expert and artistic photography.
-Pauline Oliveros
Kingston, 28 November 2011
I met David Gamper in 1967, almost 45 years ago when he was a Bowdoin College senior. He supported me by loaning his dorm-room stereo for my concert. In 1989 he joined DLB as an able, willing assistant, then as a consummate band mate, colleague, and electronics guru. Soon his status as a marvelous family man, friend, gentleman, musician (conch, natural flutes, piano, toys, voice), and troubleshooter came to the fore. Furthermore, he was "there" for people, support that is well respected. For over 20 years his spectacular piano playing propelled DLB concerts forward, but it was only recently that I discovered the depth of his playing, playing that I thought I knew! Over time I became enthralled with his magnificent flutes and how he performed on them and integrated everything into EIS. DLB will carry on, but it will never be the same. He is deeply and sorely missed.
--Stuart Dempster
Seattle, 27 November 2011
All Releases by Deep Listening Band
Subscribe to Deep Listening's E-newsletter!


Deep Listening Institute, Ltd.
77 Cornell St, Suite 303 Kingston, NY 12401
800.497.4072 toll-free 845.338.5986 fax


Deep Listening Institute Programs are made possible by the New York Statue Council on the Arts with the support of Governor Andrew Cuomo and the New York State Legislature.