Doug Van Nort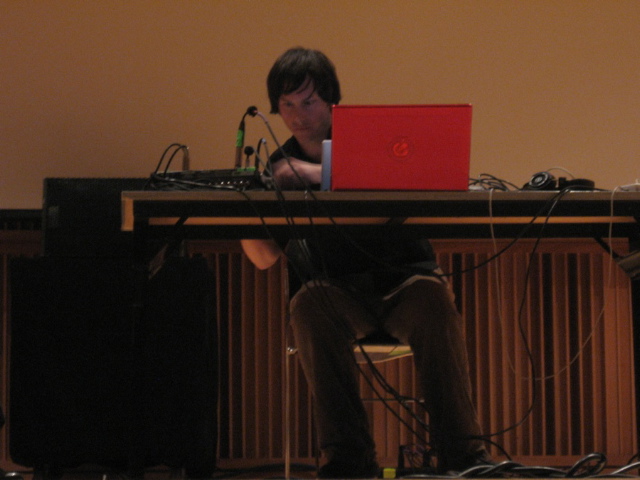 Doug Van Nort is a sound artist, composer and researcher. His work takes an experimental approach to technology, resulting in a unique mixture of research and creation. Recent projects have included installation pieces for interactive fabric instruments, electroacoustic compositions, analysis/synthesis systems for texture and noise, pieces for large ensembles of "laptop performers" over the internet, and intelligent agents for musical improvisation. These and other works have been presented at festivals and conferences across Europe, Japan and North America.
Van Nort improvises regularly with electronic and acoustic musicians using his custom GREIS software and amplified objects, currently performing in the trio Triple Point with Pauline Oliveros and Jonas Braasch. His work is documented on several experimental music labels (including Deep Listening) and in publications such as Organised Sound and Leonardo Music Journal. In addition to Oliveros and Braasch, current collaborators include Chris Chafe, Michael Century and Al Margolis.

Triple Point digital download

All Releases by Doug Van Nort
Peter Van Riper
Peter Van Riper has been an artist/musician right from the start, making "Sound and Light" environments in the 60s. Peter was a pioneer in bringing laser technology to the art world and received recognition as the first exhibitor of laser art and holography. Attention to space and attention to perception are the focuses of his musical works, particuarly in terms of waves and movement. Percussive hearing sounds in the Duchamp/Cage tradition pervade his music. Van Riper's music moves from western notation toward the sounds of World Music and nature. He derives inspiration for his acoustic music from the non-western traditions of Indonesia and Japan. Following graduate work at Tokyo University, he toured Japan with performances and exhibitions. He has worked extensively with dancer Simone Forti, visual artist Eugènia Balcells, and performance artist Sha Sha Higby. He has produced music for Seven Days in Space, a 90' video of NASA space exploration and has performed in Holland, Spain, Canada, and New York City.



All Releases by Peter Van Riper
Stephen Vitiello
Stephen Vitiello has collaborated with musicians, visual artists and choreographers, among them Pauline Oliveros, John Cage, Merce Cunningham, Constance DeJong, Nam June Paik, Scanner, Frances-Marie Uitti ... His music has been heard at the Brooklyn Academy of Music, P.S.1 Contemporary Art Center (New York), Museum of Contemporary Art (Lyon), Cheekwood Museum of Art (Nashville), Texas Gallery (Houston), The Performing Garage (an off-site event of the 1997 Whitney Bienniale), National Galerie Hamburger Bahnhoff (Berlin), New York World Trade Center, Festival of Film and Architecture (Graz), Philadelphia Museum of Art ... on WDR Radio, on the web, as part of Tetrasomia (a project of Dia Center for the Arts) ... He directed the video Nam June Paik: SeOUL NyMAx Performance, 1997 - Dress Rehearsal and The Last Ten Minutes. He curated the Sound Art segment of 'The American Century: Art and Culture 1950 - 2000' for the Whitney Museum, and organized 'Young and Restless', a video program which toured to over 40 venues internationally, for the Museum of Modern Art in New York. Statement: "I am interested in the physicality of sound and its potential to define the shape, feel and color of a room. I am also interested in exploring how people receive sound and to what extent I may create a work, with no visual component, and offer an environment in which a gallery or museum viewer will be enticed into listening with the attention that they would give to a visual or audio-visual work."

http://www.stephenvitiello.com

All Releases by Stephen Vitiello