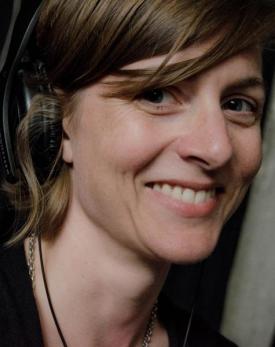 Sharon Stewart
Born in Pasadena, CA, USA
Living in Arnhem, The Netherlands
I grew up in the United States and, after traveling some years through Jordan and France, finally landed in Arnhem, The Netherlands. I have studied piano at the Utrecht School of the Arts, Faculty of Music, and later completed a Masters in Music Pedagogy at the Royal Conservatoire, the Hague, focusing on feminisms, improvisation and technology in a music pedagogical practice. In the course of this process I discovered Deep Listening®. After following three international retreats, I became certified in Deep Listening® with Pauline Oliveros, IONE and Heloise Gold in 2011. I have also had significant personal experience with Bio-Energetic work, including a two-year training, 2008-2010.
I have the privilege to live in a city with a thriving dance academy, ArtEZ, and have become involved in various projects and performances with dancers, some ongoing. Further, I have a private piano practice in Arnhem; guest lecture and give workshops at the department of Gender Studies at Utrecht University and NOI♀SE Summer School; and serve as Associate Editor of the Journal of Sonic Studies. Since an electroacoustic composition proposal of mine involving whale sounds was nominated for a national composition prize for female composers (MCN Compositieopdracht Prijs, 2012), I have been focusing more on the composition of electroacoustic music.
In my work I strive for a dynamic relationship with the body, creating situations for myself and others in which participants can 'make music' while also remaining open to the particularly sense-ational information the body continually relays. Paying attention to dreams is a rich source for me in understanding my underlying and transform-ing/ational emotional states as well as providing a, sometimes astounding, source of raw materials. In my own creating and teaching I hold and return to balance, openness, stillness and spontaneity, while leaving space for the explosive, volatile and powerful forces of emotional expression.
Tom Bickley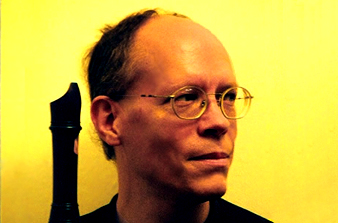 Tom Bickley (recorder + electronics + voice) listens to the world always hoping to hear more and more fully. He grew up in the semitropical soundscape of Houston, sojourned in Washington, DC
(studying music, religion, and information science) and came to California as a composer in residence at Mills College. In Berkeley he lives and sings at Incarnation Priory (an Episcopal Benedictine community), teaches privately, at the Bay Area Center for Waldorf Teacher Training and on the library faculty at California State University East Bay. He plays with shakuhachi player Nancy Beckman as Gusty Winds May Exist and directs the Cornelius Cardew Choir.
Anne Bourne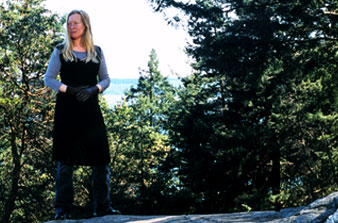 Anne Bourne is a composer, cellist and vocalist. She has performed and recorded internationally with many artists in creative music genres including Jane Siberry, Fred Frith eric chenaux, Copyright, Tom Cora, Sarah MacLachlan, Susie Ibarra, and Joelle Leandre among others. Anne has created scores for film and dance with Peter Mettler, Atom Egoyan, Andrea Nann and Michael Ondaatje. Anne first met Pauline Oliveros when she was invited to perform a distance concert with The Deep Listening Band in New York and groups in Paris and Toronto, in 1994. She then participated in the Rose Mountain Retreats for the years that followed until the milleneum shift. Bourne performed Oliveros' Primordial Lift recorded for TotE with Oliveros, Tony Conrad and David Grubbs. Anne was a participant in the DL Opera at Lincoln Centre with her young daughter Willa. Current recording called dearness, with John Oswald and Fred Frith on Spool. Anne improvises with dwct, Quorum, and Eve Egoyan. Anne "is an earthy, unrestrained musical force, she accompanies her cello with otherwordly vocalizing" - CODA magazine
Monique Buzzarté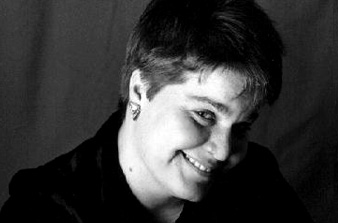 Monique Buzzarté is active in new music circles as a trombonist/composer. Honored as a "Soloist Champion" by Meet the Composer, she will be a featured performer in their 2007-08 season. Recent recordings include Zanana's Holding Patterns and the New Circle Five's Dreaming Wide
Awake (Deep Listening) along with John Cage's Five3 with the Arditti Quartet (Mode). She designed and developed a slide-mounted interactive live processing system for the trombone. Her advocacy work led to the admission of women into the Vienna Philharmonic Orchestra in 1997. 1999 DLI Certificate Recipient.
Raylene Campbell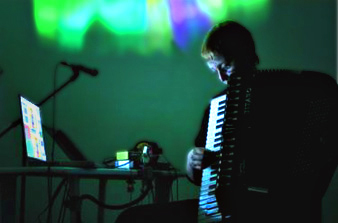 Raylene Campbell is an accordionist, improviser, composer, performance artist, audio/video artist, sound designer, teacher, and Deep Listening Instructor. Raylene is currently based out of Montreal, Canada and has a Master of Fine Arts degree from the Milton Avery Graduate School of the Arts, Bard College, NY. Raylene's creative process involves explorations of acoustic ecology, psychogeography, architecture (acoustic and social spaces), computer interactive technology, and audience interactivity in both performance and installation environments. Raylene often collaborates with other musicians, composers, performers, and artists of multitudinous disciplines.
Abbie Conant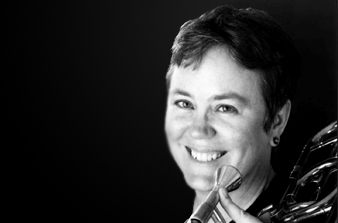 Abbie Conant received her Bachelor´s Degree (cum Laude) from Temple University in 1977. In 1976 she studied at Yale University, and in 1979 she received her Master´s Degree from the Juilliard School, followed by a Meister diploma from the Staatliche Hochschule für Musik in Cologne, Germany in 1984. From 1979 to 1980 she was solo trombonist of the Royal Opera of Turin, Italy. From 1980 to 1993 she was solo trombonist of the Munich Philharmonic.
The International Trombone Association Journal has featured Abbie Conant in a cover article and described her as "in the first rank of world class trombonists". She has recorded a highly acclaimed CD of trombone and organ music and performs internationally as a concerto soloist, recitalist, improviser and performance artist. This work has taken her to most of the large state theaters in Germany, where she hasperformed to great critical and public acclaim. In addition, in recent years she has performed as a soloist in over 60 American cities.
In 1992 the Baden-Würtenburg State Ministry for Education, in recognition of her international reputation as a trombonist, named her full tenured Professor of Trombone at the esteemed Staatliche Hochschule für Musik in Trossingen, Germany. In 1996 the 4200 members of the International Trombone Association elected her as their President elect. In August of 1998 she was the first woman to serve as a judicator for the International Trombone Competition in Geneva, Switzerland.
Her involvement with Pauline Oliveros and Deep Listening have supported her compositional talents and have resulted in a series of music theater works concerning the Holocaust which have been performed in Germany to large audiences with critical success. For her most recent project, entitled "The Wired Goddess and her Trombone", she is working with composers to create works for computer and trombone based on the theme of the goddess.
Viv Corringham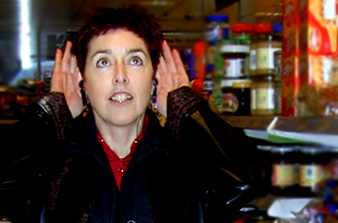 Viv Corringham is a British vocalist and sound artist, currently based in Minnesota, who has worked internationally since the early 1980s. Articles about her work can be found in Organised Sound (UK), Musicworks (Canada), and For Those Who Have Ears (Ireland). She received an MA Sonic Art with Distinction in 2001 from Middlesex University, England, and has had many awards, including a McKnight Composer Fellowship for 2006. Most recent works appeared in Art Colony, Grand Marais MN, Women in New Music Festival, Fullerton CA, Spark Electronic Music Festival Minneapolis MN, Rochester Art Center MN, Soundworks Festival, Cork, Ireland, and Midsummer Festival, Cobh, Ireland.
Caterina De Re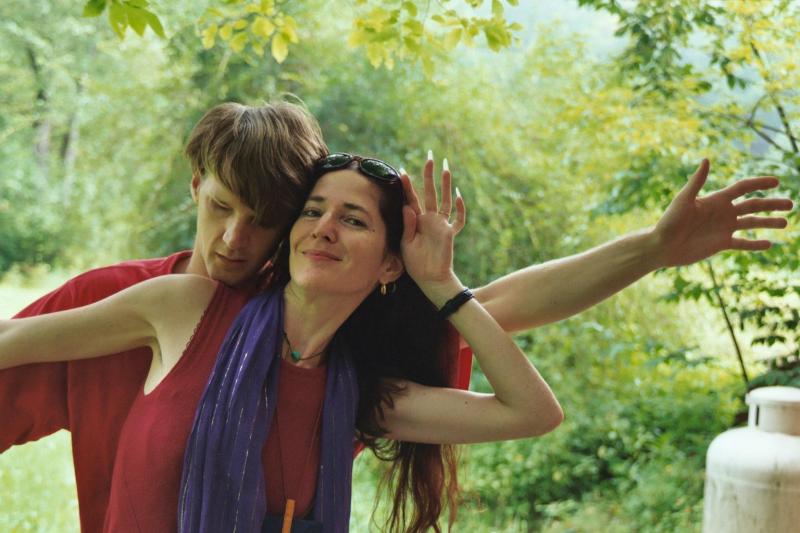 Caterina De Re is the first Australian certified as a Deep Listening teacher. Her interdisciplinary art uses vocals, improvisation, performance, video and soundscape. Performing and recording internationally as a vocalist, she has collaborated with renown sound-makers including Pauline Oliveros, Peter Kowald, Butch Morris, Dennis Rea, Michael Pestel, Strafe FR and Atatak.

Given her extraordinary vocal range, she has a unique affinity with birdsong and has performed at the National Aviary in Pittsburgh and at Central Park Tropical Aviary in Manhattan. With Butoh master, Taketeru Kudo, she has participated in a number of performances devised by Michael Pestel called "Stray Birds".

Caterina's interest in Tibetan Buddhism and contemporary art is evident in her practice and scholarship. This inquiry was her field of specialization for two graduate degrees. She has transformed compelling industrial spaces into eclectic collaborative events that honored place, her/histories and spiritual power places. While in Tibet, India and Nepal, she sonically and visually mapped spiritual activity that was later processed in performances and compositions.

Honoring progressive change through mindful lifestyle choices, she embraces integrative tools like yoga, qi gong, organic holistic wellness and other sustainable practices. Promoting creative ease with new technologies is for her a total joy.

Stuart Dempster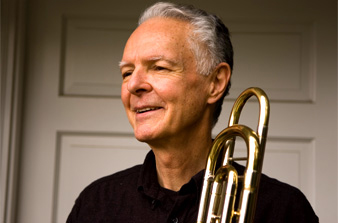 Stuart Dempster, Sound Gatherer - composer/performer/author; University of Washington Professor Emeritus; various fellowships and grants including Fulbright and Guggenheim; numerous recordings including New Albion's "Abbey", "Cistern Chapel"; landmark book "The Modern Trombone: A Definition of Its Idioms" published 1979; Merce Cunningham Dance Company commission in 1995. Besides Cathedral Band performances, he is founding member of Deep Listening Band. Dempster soothes aches, pains, and psychic sores with his meditative and playful "Sound Massage Parlor"; "Golden Ears Deep Listening Certificate" awarded in 2006.