Recordings
DVDs & Videos
Books
Scores
Digital Downloads

Downloads by Donation

*****
Welcome To The New Deep Listening Online Catalog!
We are currently updating the catalog - if you encounter any problems please CONTACT us!

Deep Listening Publications is a unique annotated artists' catalog committed to music and sound works that transcend cultural boundaries and stretch the mind.

The Deep Listening Catalog is curated by Pauline Oliveros, an internationally acclaimed composer, performer, author and lecturer. Oliveros has worked at the forefront of new music composition since the fifties and today is considered one of the world's most distinguished experimental composers.

"What composers are at the leading edge of new music in the twenty-first century? If there is a leading edge then what is it? What composers and artists will synthesize or codify the swiftly changing characteristics of our time and make it manifest in our music? Who listens to new music? What is its importance? Answers to these questions might be found through new composers within this catalog now and as it expands in the future."
- Pauline Oliveros
SEARCH BY ARTIST
A B C D E F G H I J K L M N O P Q R S T U V W X Y Z
BY LABEL
Deep Listening, Mutable Music, Pogus, XI Records, Ants
*****
FEATURED ARTIST
Phoebe Legere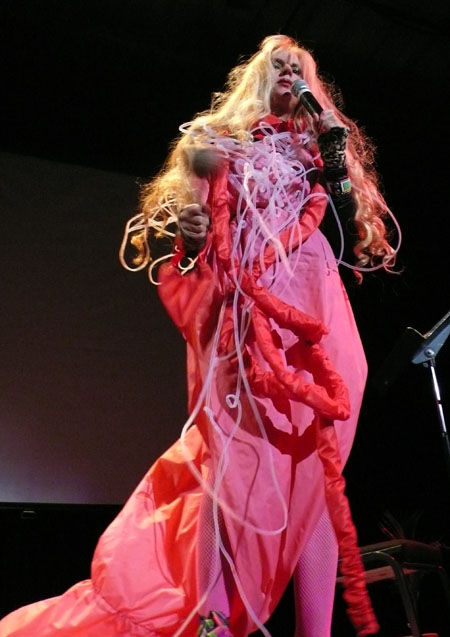 New York, USA
TRANSMEDIA SOUND ARTIST.
Using film, music, installation, electronics, paint, circuits, invented instruments, traditional instruments, performance art, poetry, costumes and movement I create physical singing theater.
My current project:
The communal eating of the body of God is a theme found in many religions. In my Opera Symphony I play Corn Mother, the Penobscot cultural heroine who allowed herself to be dismembered and eaten so that her people could live. The Mother Symphony is a critique of modern consumerism and gluttony. I use hunger as metaphor for abusive power relationships. With drawings, costumes, music, projected scores, texts and orchestration I show how the human body evolved. Both Native Americans and scientists agree that all life forms are descended from one organism. The Penobscot people of Maine called her "Corn Mother;" evolutionary Biologists call her, "Thermaplast," the heat loving, sulpher eating modal bacter that lived in hydrothermal vents on the ocean floor 3.6 billion years ago. Mother Symphony will underline the processes that transform food and water into life. I will condemn the culture of death that draws people into fatal addictions and self-negating choices. The Human Intestine contains 100 trillion microorganisms all coexisting and working together. The diversity, fragility and ecology of the GI tract is something ignored by most Americans. The human intestine is a fragile environment. Each person is the steward of his or her internal ecosystem. As one doctor has said, "the American diet leads to American diseases." Using paintings, films, text and orchestration I will conjure ancient organisms whose descendants we are. Reaching back into early earth history and the co-evolution of plants and animals, I will make a visionary plea to the healing world of plants and I will invoke the ancient Penobscot mythic animals and heroes to help me generate an iconography of self transformation. In this era of post- post- feminism the time is right for a fully orchestrated multimedia salute to our supernatural creative hero, Corn Mother.

http://www.nyundergroundmuseum.org/artist1.php